Give lots of parties or host events? Fun Along the Way has made bulk orders affordable! You can own the best divided plates you'll ever find. Being ergonomic in design, you can easily and comfortably hold these plates without discomfort while standing or balancing.  Even when holding a full beverage and lots of food, the plate is perfectly balanced and comfortable to hold — even for long periods. Packed four plates to a set, we know you'll likely need more.
Coupon Codes
Use the following coupon code chart to find the coupon code
that fits your order. Match the number of 4-Packs in your order to the
level of savings you'll earn. Then just use the respective coupon code and
enter that code in the shopping cart field where asked.
Your coupon code will be applied to your order.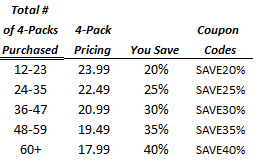 Are you a reseller? See our Party Palette wholesale page for more
information about buying Party Palettes at wholesale pricing.