Party Palettestm — Divided, Plastic Plates for Parties.
An Easy Way to Have "Fun Along the Way."
Have you ever tried juggling a plate and wine glass while trying to shake hands at a party? Or do the same thing trying to exchange business cards at a meet-n-greet business event? Or struggled to balance food and beverages at any event? Like tailgating events where you're often trying to eat and drink while standing up? Or on a boat where you're rocking with the waves?
Most of us have know this drill all too well. Even with lots of "practice," most of us just haven't achieved the title of master juggler — of food and beverages, that is.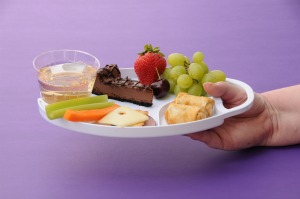 The Party Palette solves the problem! Party Palettes are perfectly balanced, divided plastic, party plates that also conveniently hold a beverage. A Party Palette is easily held in one hand, leaving the other hand free to shake hands, exchange a business card, or ready to eat or drink without having to juggle the food and drink.
Manufactured in the USA, Party Palettes are a Made in Montana product. These handy, plastic, divided plates come in two sizes, both made from food grade, durable and recyclable plastic. The smaller plate conveniently and securely holds a wine glass — even when tipped, the wine glass is secure. The larger plate perfectly holds a canned beverage or a standard sized plastic or paper cup.
Party Palettes are ergonomic, too. No more hand cramps from awkward grips that make holding a plate more trouble than it's worth. The Party Palette is designed for an easy, well balanced, and comfortable grip that provides stability to the plate and the food and beverage on it.
Dishwasher safe, these plates are also a reusable, sustainable product.
Best of all, Party Palettes take the juggling out of social events – and put the focus on food and fun while enjoying the company of friends.
We invite you to visit the pages on this site. We're sure you'll think of lots of places that are perfect for using Party Palettes plates. Networking events, tailgate parties, holiday parties, backyard barbecues, receptions, and more.
When you're ready to buy, just go to our BUY NOW page for easy and secure check-out. You'll wonder how you ever got along without these wonderful divided, plastic, party plates.
Party Palettes. From Fun Along the Way.